Posted by
Stoner
in
Otros
, tags:
21
,
22 junio
,
Azkena Rock Festival 2019
,
Danny & The Champions of the world
,
Meat Puppets
,
Mendizabala
,
Morgan
,
Plaza de la Virgen Blanca
,
Stray Cats
,
Tesla
,
The B'52s
,
The Cult
,
Trashville
,
Tropick Fuck Storm
,
Vitoria
,
Wilco
Contando los días para el clásico vitoriano. En su edición número 18, cuenta como platos fuertes con la presencia de los Stray Cats (celebrando su 40 aniversario), The Cult (Gira del Sonic Temple), los inclasificables The B'52's o el regreso de Wilco después de su doble concierto en el 2004. Pero habrá mucho más. Como siempre, sonidos y bandas para todos los gustos. Lucero, Tropical Fuck Storm, Tesla, Neko Case, Philip H. Anselmo & The Illegals, etc, etc, etc
Aquí dejamos la info del cartel, incluido las actividades paralelas al evento y el previo del jueves.
JUEVES 20 DE JUNIO
OSTEGUNA ROCK FESTIVAL. Plaza Virgen Blanca (Gratuito)
19:00 Delenda Est (Gasteiz) / 20:05 Los Brazos (Bilbo) / 21:45 The Amorettes (Eskozia)
En la sala jimmy jazz, 22 horas. Flamin´ Groovies con Roy Loney haciendo el histórico "Teenage Head" (18/22 euros)
CARTEL AZKENA ROCK FESTIVAL 2019

Stray Cats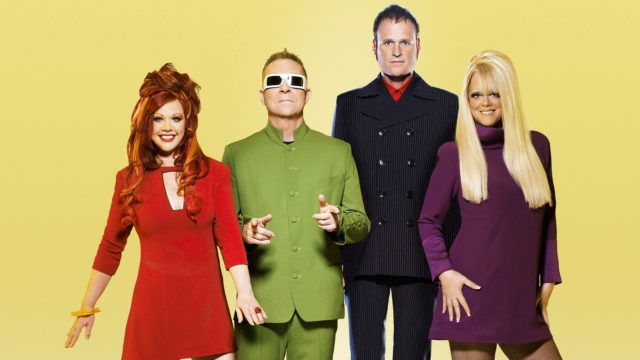 The B'52s
VIERNES 21 DE JUNIO
Plaza de la Virgen Blanca
13:30h TAMI NEILSON (Gratuito)
Mendizabala
17:00h Apertura de puertas
God
17:30 MICKY & THE BUZZ / 19:15 THE LIVING END /21:45 STRAY CATS /00:40 THE B-52S
Respect
18:20 SURFBORT /20:35 DEADLAND RITUAL /23:20 BLACKBERRY SMOKE / 02:00 GLASSJAW
Love
18:00 GIANTE /19:15 INGLORIOUS /20:45 LUCERO /23:15 TROPICAL FUCK STORM /02:00 THE HILLBILLY MOON EXPLOSION
Trashville- Trash a go-go!
19:00 DOLLAR BILL & HIS ONE MAN BAND 7 21:00 THE CHEATING HEARTS / 23:00 LOS DUQUES DE MONTERREY
01:00 BLIND RAGE & VIOLENCE /02:30 DJ BOP HOP/ 04:30 CRISTINA SANDALIA
Trashville- Rat Hole
18:30 LUCHA EXTREMA MEXICANA/ 20:30 LUCHA EXTREMA MEXICANA/ 23:30 LUCHA EXTREMA MEXICANA
02:15 LAURA PREMINGER /04:15 DJ SEÑOR LOBO
SÁBADO 22 DE JUNIO
Plaza de la Virgen Blanca
13:30h DANNY & THE CHAMPIONS OF THE WORLD (Gratuito)
Sala Helldorado
FUN & CRAZY MIDDAY
· THE MIDNIGHT KINGS / STAR MAFIA BOY / LOS VOLIDOS
Puertas: 13:00 hrs. Precio: Entrada Gratuita.
Terraza, pintxos, aforo limitado…
Mendizabala
17:00h Apertura de puertas

Wilco

The Cult
God
17:30 OUTGRAVITY /19:15 TESLA /21:45 WILCO /00:35 THE CULT 'A SONIC TEMPLE'
Respect
18:20 MT. JOY /20:35 NEKO CASE /23:20 GANG OF FOUR /02:10 PHILIP H. ANSELMO & THE ILLEGALS
Love
18:00 GARBAYO / 19:15 MEAT PUPPETS /20:45 CORROSION OF CONFORMITY / 23:15 MORGAN / 02:10 STARCRAWLER
Trashville- Trash a Go-Go!
19:00 THE COURETTES / 21:00 DEADBEATZ / 23:00 LOS TORONTOS /01:00 PUSSYCAT & THE DIRTY JOHNSONS
02:30 DEBORAH DEVOBOT / 04:30 WOLF-A DJ
Trashville- Rat Hole
18:30 LUCHA EXTREMA MEXICANA / 20:30 LUCHA EXTREMA MEXICANA /23:30 LUCHA EXTREMA MEXICANA
02:15 DJ ARBIS vs DJ GAUTXOS /04:15 HOLY CUERVO DJS
Bono: 120€
Bono + Camping: 130€
Entrada de día: 65€
Venta: www.azkenarockfestival.com
Más información:
www.azkenarockfestival.com
www.ltinews.net
www.facebook.com/azkenarockfestival
Twitter: @azkenarockfest #azkenarock #infoarf
Foro alnorteldenorte